NANCY HITZANIDOU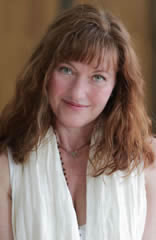 Nancy Hitzanidou was born in Athens, but after completing her studies as a Computer Engineer at the Polytechnic School of A.U.Th., she opted to live and work in Thessaloniki.
At the same time, her profound love for Yoga as a philosophy, as a physical exercise, and as a way of life, led her to a journey, whose main milestones have been the Yoga Alliance 500-hour Teacher Training Program at NYSY Studios (completed in 2011), the Meditation Teaching Training Program "The Art and Practice of Τeaching Meditation" at TriYoga London with Sally Kempton (2015), and her certification in 2016 from the Traditional Yoga Studies Institute (Georg and Brenda Feuerstein), for having completed a 3-year distance learning course (800-hour) in Philosophy and History of Yoga. Since 2017 she is also studying the sanskrit language, first by a distance course at the Rashtriya Sanskrit Sansthan, and subsequently at the Athens Center for Indian & Indo-Hellenic Studies.
Since 2008, she teaches Yoga classes, leads workshops, and serves as a faculty for Yoga Teacher Training Programs, in which the physical postures, meditation and applied Yoga Philosophy interweave and inspire each other.
Contact: hitzanidou@elinepa.org
Nancy Hitzanidou's articles at elinepa.org:
"Spirituality and Morality in Yoga", INDIKA 2022 (1st edition 2018)